This Week in Lifeguard News – Lifeguard Championships
|
This Week in Lifeguard News, the USLA National Lifeguard Championships Were held
This Week in Lifeguard News, the USLA National Lifeguard Championships Were held in California.  Also, In Boston a lifeguard with strangers helped save the life of a 7-year old boy.  Meanwhile in Livingston, New Jersey 4 teen lifeguards were honored on Monday for there heroic rescue back in July.  Then in Atlantic City, Police forces, firefighters, and retired lifeguards save a teen from being swept at sea.
Atlantic City Police, Firefighter, and Retired Lifeguard Save Philly Teens from Ocean
Two Philadelphia teens were rescued on Thursday morning, August 11, 2016. At about 8:30 am, Atlantic City police received a report of a person in trouble in the water. Lifeguards were reportedly not on duty when Officers Michael Gavin and James Bower arrived to find three people in the water, two teenage girls and John Barry, a former Atlantic City Beach Patrol lifeguard.
Reports say the two girls were at different distances from the shore and Barry was already in the water with the girl who was furthest from shore.
Officer Gavin and Atlantic City Firefighter Brian Kane entered the ocean with a flotation device and brought the girl closest to shore to safety before returning to help Barry. Both girls, ages 16 and 18, were treated at the scene by medical personnel.
Meanwhile, 4 Teen Lifeguards Were Honored on Monday in Livingston, New Jersey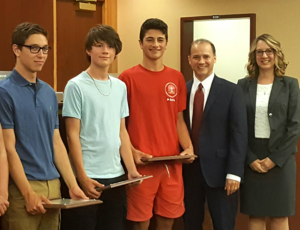 On Monday, August 8, 2016, The Livingston Township Council honored four members of Livingston's Haines Community Pool staff who successfully completed a rescue on July 14 that saved a Livingston woman's life. The four local heroes, Michael Riccardi, Tyler Gaskill, Billy Garcia, and Hae Mi Jung, had each contributed to the rescue process. Hae Mi Jung had spotted the victim at the bottom of the pool, Billy Garcia jumped into the pool, then partnered with fellow lifeguards Tyler Gaskill and Michael Riccardi to administer CPR to the victim.
Speaking on the incident, Director of Senior, Youth and Leisure Services, Jennifer Hessberger, said each lifeguard on duty acted professionally, responsibly, and without hesitation.
And in Boston, Lifeguard Partners with Woman to Rescue a 7-Year-Old Boy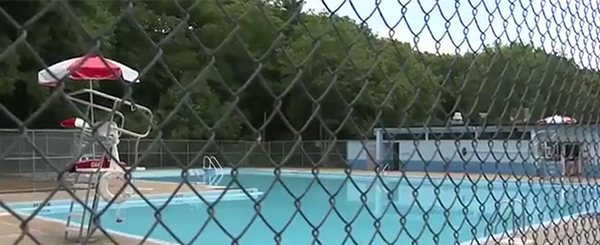 The family of an unidentified 7-year-old boy have the quick thinking and bravado of Nikia Dean to thank for the rescue of their child. Dean, a visitor at the Olsen Pool in Hyde Park, Boston, partnered with a lifeguard to save the life of the 7-year-old. Dean credited her knowledge of CPR to the training she received while working as a home health aide, stating she was thankful she hadn't forgotten how to administer CPR. While recounting the ordeal, Dean said she worked with the pool's lifeguard until the child got a pulse. The boy was taken to Boston Children's Hospital and is expected to fully recover.
Meanwhile, Los Angeles Lifeguards Fight to Defend Title at USLA National Lifeguard Championships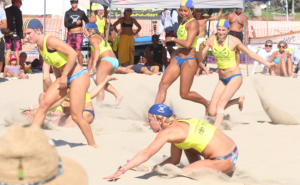 Los Angeles County Lifeguards will be looking to retain their title in the ongoing National Lifeguard Championships. Prior to 2014, LACoSLSA had held the title for a stunning 27 years before the streak was snapped by Monmouth County, New Jersey lifeguards in 2014. They (LA) reclaimed the title in 2015 and will now be looking to hold on to it this year. The Lifeguard Championships returned this year to Hermosa Beach for the first time since 2013.
For additional photos of this and other lifeguard events please visit our Lifeguard Times™ photo gallery.╚
For future information about lifeguarding and related industry topics, visit www.lifeguardtimes.com.