Top 10 Best Beaches In The World To Be A Lifeguard
|
Top 10 Best Beaches In the World To be A Lifeguard
When asked what the best place is to Lifeguard, people often blurt, "ANYWHERE THAT ISN'T INDOORS!" While this may seem like an exaggeration, there's certainly validity to it. Indoor life-guarding can become monotonous at times, and lifeguards have to sacrifice the tan they would otherwise get when working outdoors. So we're going to rephrase our earlier question to "Where's the best place to Lifeguard?" to lay out our story for today. In this article on eLifeguard.com we are going to look at the top 10 best beaches in the world to Lifeguard.
10) Source d'Argent, Seychelles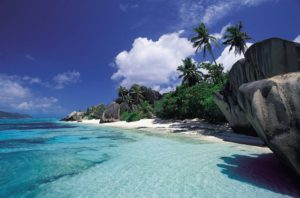 First off, permit us to say "Seychelles" again. This truly is the home of beautiful waters. As if a beach in this region needed any enhancement, the Seychelles' third largest island features pink-hued sand and a secluded cove. That's not all: enormous, weathered granite boulders line the shore, and there are nearby restaurants that offer Creole-inspired cuisine. Now with that picture in mind, imagine yourself there as a lifeguard. Fascinating, right?
9) Trunk Bay, St. John, USVI
One of the most photographed beaches in the Caribbean, Trunk Bay sits in the northwestern corner of the Virgin Islands National Park. With its calm, clear water and a 225-yard-long Underwater Trail, Trunk Bay draws in many visitors for its superb snorkeling and hiking experiences. This beach boasts of a steady influx of adventurers eager to swim and explore the ruins of historic sugar cane plantations. If you're a lifeguard with a passion for action, this is your place!
8) Dune du Payla, France
Measuring over 100 meters, Dune du Payla is Europe's tallest dune. An hour south of Bordeaux, this dune is located along the Arcachon Bay. There are miles of beaches to explore along this bay, all of which encompass the panoramic views of pine forests and the Atlantic Ocean. You'll have to shield your eyes as much from the shimmering heat haze as the pristine sand, though. On the bright side (pun intended), you can easily get a golden tan while working here. Cap Ferret is not only rumored to have the best view of the dune but also the best entrees at local oyster cabanes.
7) St. George Beach, Naxos, Greece
Greece is in no shortage of gorgeous beaches, but when it comes to accessible and kid-friendly options, the Cyclades island of Naxos is hard to beat. One of the best bets for families can be found within a five-minute walk of Naxos Town, or Chora. Now, by families we mean swimmers. Here's why this beach is perfect for life-guarding. The warm, shallow waters of St. George beach offer options for paddling, snorkeling, windsurfing, wake-boarding, and water-skiing. While these are all fun adventures, the lifeguard services are what really make the difference here.
6) Praia de Salema, Algarve
In the far West of the Algarve, the fishing village of Salema has silently escaped the large-scale development that blights much of Portugal's southern coast. Fishermen tend their nets on the sandy Blue Flag-certified beach and dinosaur footprints are still preserved in the beach's surrounding limestone rocks. The gentle waves are perfect for boogie boarding under the watchful eye of lifeguards on duty in the summer. These beaches come with toilets and showers, an exquisite grouping of restaurants, and if you're feeling spunky, sun loungers and umbrellas for rent.
5) Yyteri Pori, Finland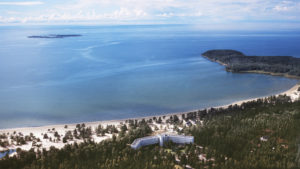 Finland probably isn't the first country that springs to mind when talking about gorgeous beaches, yet this Nordic country is home to one of the finest stretches of sand in northern Europe. Yyteri Beach, near the city of Pori, is a five kilometer stretch of powder-soft sand backed by dunes and pine forests. In late summer, the shallow waters of the Baltic are surprisingly warm and the offshore breeze attracts surfers from across Scandinavia.
4) Kekaha Beach Park, Kauai, Hawaii
This beautiful beach lies near the end of the 15-mile-long stretch along the Mana Coastal Plain toward Kekaha. Kekaha Beach Park is located on Kaumualii Highway at the western end of Kekaha town. The improved portion of the beach park, with its state-of-the-art facilities, is located across the road from the beach. Surfers make up a huge portion of ocean users at Kokole Point and they stay true to their dauntless nature when choosing the most daring surf sites, including Rifle Range, Targets, and Whispering Sands. There's no gainsaying that where there are surfers there should be lifeguards. The best part is… it's in Hawaii!
3) Matira Beach, Bora Bora, French Polynesia
As one of the most publicly accessible beaches in Bora Bora, Matira is one of Tahiti's popular beaches for more reasons than one. The mile-long stretch of silky, powder-white sand slopes gently into a shallow emerald lagoon and is backed by a thick curtain of palms and tropical foliage. Not to mention, there is usually a light touch of sunshine during the day, which boosts your tanning game and brings just the right amount of warmth.
2) Ipanema Beach, Rio de Janiero, Brazil
This beach is bustling all year round. Situated on this mile-long stretch of sea and sand is one of the most famous bossa nova ditties of all time. The lively area is usually overrun by the parade of beautiful beach-goers, the nonstop hive of beach sports, and the seemingly never-ending supply of beer and Cachaça. Lifeguards assigned here are guaranteed to have their hands full, so if you're looking for less activity, beach number one is the winner for you.
1) Ses Salines, Ibiza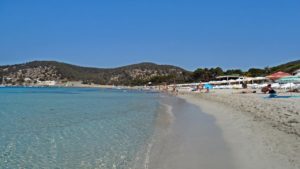 This small haven of sun and sand is set far back within a nature reserve. Accompanied by a soundtrack of gently thudding bass drums, Ses Salines is licensed to party until just after sunset. As the sun dips towards the horizon, bikini-clad dancers mingle with sunbathers on the soft sand. Sitting on a chair watching over people doesn't sound so boring now, does it? You can enjoy music, socializing, a live show, and of course, lots of swimming!╚
For future information about lifeguarding and related industry topics, visit www.lifeguardtimes.com.