State of the Art Lifeguard Bag Receives Patent Pending Status!
|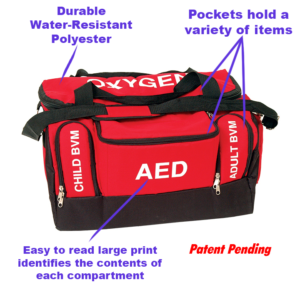 This state of the art lifeguard bag, offered by eLifeguard.com®, received patent pending status by the U.S. Patent & Trading Office.  This first responder bag is the first of its kind that is labeled and ready for lifeguard or first responder use! The bag is made of durable water-resistant polyester. Dimensions of the bag are 22″" x 16″" x 12″". The new label system of this bag appears to take the guesswork out of what each pocket contains. Large print on each pocket makes it easy to identify the contents of each compartment.  The manufacturer offers this item in a wide variety of colors.
Pockets are labeled for the following items:
OXYGEN
AED
SUCTION
ADULT BVM
CHILD BVM
For more information about this product click here.


To See A Video of the Patent Pending Lifeguard First Responder Bag, Click Below:
For future articles about lifeguarding and related industry topics, visit
www.lifeguardtimes.com
.
╚