Lifeguard shark wrestler makes waves after shark encounter
By Virgil Dugo
Editor: Miguel Arango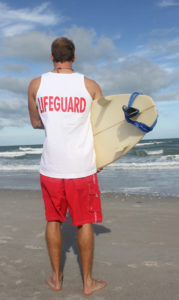 Brevard County, Cocoa Beach, FL
It was a relaxing day surfside with hundreds of beach goers enjoying the sun, sand, and water. That is, until a large 5 foot long shark came dangerously close to a group of small children playing on the beach.
Brevard County Ocean Rescue Lifeguard and eLifeguard.com cover model, Zach Cooney, wasted no time confronting the shark. After making sure that the children were safe, he proceeded to move the shark back into deeper water. By grabbing the shark's tail, he was able to skillfully wrestle the shark, and then pull it away into the water, where it would be out of harm of the crowd of beachgoers around it.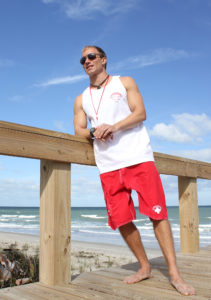 Because of a local boat racing event, there were large crowds of people on the beach. Cooney was just trying to get the shark back into deeper water, where it would pose no danger.
The Brevard Times reported that Brevard County Fire Rescue spokesperson, Donald Slayman, had this to say, "The lifeguard that moved the shark is certified to handle alligators, so he was the obvious choice to safely mitigate the situation," [Brevard times].
It has been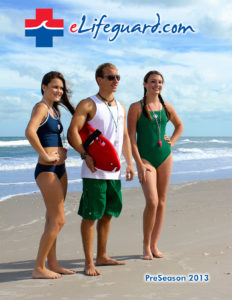 known that Florida is the #1 state for shark attacks in the US, with Volusia County and Brevard County being the top two counties in the state for shark attacks, as reported by the Florida Museum of Natural History.
Here are just a few facts about sharks you may not know, provided by Sharkfacts.org :
About 100 people in the world are bitten by sharks each year. Of these, five to ten die.

You are 1,000 times more likely to drown in the sea than you are to be bitten by a shark.The chance of being killed by a shark is one in 300 million. The chance of being killed by airplane parts falling from the sky is one in 10 million.