Lifeguard News of the Week
|
Lifeguard News of the Week July 28, 2016
Lifeguards devote their summer days to serving the community in water zones near and far, where they exercise their skills of safety, leadership, and good judgment. It is because of these diverse skills that many lifeguards have gone on to become major icons — we're looking at Ronald Reagan, Vince Vaughn, Clint Eastwood, and Jack Nicholson. Famous or not, lifeguards play huge roles in drowning prevention all over the world. While few lifeguards receive the spotlight they deserve, here on Lifeguard Times we are dedicated to honoring their weekly heroic acts. Without further adieu, it's time to explore lifeguard news this week.
Lifeguards Team Up with Off-Duty Cops to Save Totowa Pool Drowning Victim
A team of rescuers sprang into action to save a man who nearly drowned at a pool in Totowa, New Jersey. Reports say the samaritans didn't think twice about helping the man in distress.
Alez Pezzino, a lifeguard for three years, realized how serious his job was while on duty at the Totowa Town Pool on Sunday. He administered CPR to the 71-year-old victim just after his colleague Matt Shpiruk and two off-duty police officers collaborated to rescue the man from the water.
"The man was swimming fine. Then he went under the rope to 8 feet and sunk like a stone," Shpiruk said. The unidentified victim reportedly lost his pulse at one point.
Several bystanders witnessed the rescue and were shocked at the gravity of the situation. Director of Recreation John Manzinelli said in regards to the rescue, "He was blue — he was really blue– and he wasn't breathing."
The Totowa police officers confirmed the reports but refused excessive news coverage. Among one of the officers who helped, Gary Bierach, turned down camera shots saying "I don't want to take credit away from the others that helped today. I was just doing my job."
The survivor remains unidentified. According to his daughter, he would spend one more night in the intensive care unit but is expected to be okay.
Lifeguards extend warnings after pulling nearly 200 from surf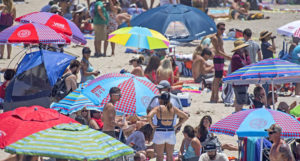 Lifeguards at Huntington Beach issued warnings to beach-goers on Sunday in response to an upsurge in the number of rescues that weekend. The rescues reportedly occurred along a quarter mile of the beach, just south of the Huntington Beach pier.
City Lifeguards at Huntington Beach hauled about 200 people from the surf on Saturday between Towers 3 and 9 during a four- to five- hour time period. The rescues occurred primarily between 10 AM and 2 PM.
Huntington Beach Marine Safety Lieutenant Eric Dieterman says that "the high number of rescues was due to a combination of crowd density, high surf, and dangerous ocean conditions." He recalls that "people were getting into rip currents and trapped in holes from an uneven ocean bottom. We had a couple of mass rescues with five or six people needing help at one time."
A few of the rescued victims may not have known how to swim; however, the ocean conditions made it exceptionally difficult, even for those who knew how to swim. Dieterman says, "It's important that people know what the ocean hazards mean," he said. "If they're near a lifeguard tower, they should ask about the prevailing ocean conditions and find out about the best place to swim." Fortunately, city lifeguards were well-equipped to deal with the hazardous ocean conditions.
While the crowds during this opening weekend of the U.S. Open of Surfing were atypically small for a summer weekend, the numbers are expected to change. Once the finals get going, Huntington Beach may need to prepare for an influx of beach-goers. Regardless of an increase in attendees or not, the city lifeguards are taking this issue seriously and cautioning all local residents.
Cameron County Beach Patrol Adds Lifeguard Towers In Response to Recent Drownings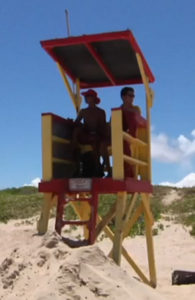 Beach Access 5 was previously notorious for drowning deaths, but it has recently been made more safe with the addition of lifeguard towers. The two towers were added Friday in anticipation of a busy summer rush.
Cameron County Beach Patrol Jesus Hernandez is happy with the addition. "With the recent amount of drownings at Access 5, it was decided that the county needed lifeguards up there, so we took a move on it. We made plans for it and the county accepted them," he said.
Mario Silva, a 17-year-old who drowned at Access 5 in June, allegedly did not know how to swim and was out in the water on a boogie board. His mother told news outlets she watched him go under the water and never resurface. His body was found a few days later.
Cameron County Beach Patrol reminds people that lifeguards can't patrol the entire beach access. Hernandez hopes the new towers will keep beach visitors safe but remains realistic in his expectations. He says, "Right now we only have two lifeguards and they're covering so much coverage there."
Hernandez advises beach attendees to stay near the lifeguard towers as proximity aids surveillance. Beach lover Melissa Robles intends to follow this advice, claiming that lifeguard towers make her feel safer. "We've come here before and that's one of the reasons why we hadn't been here in a couple of years," she said with respect to the new towers. Robles says she will be bringing her children to Beach Access 5 more often now.
Lifeguards resume duty every day from 11:45 am. to 6:30 pm.╚
For future information about lifeguarding and related industry topics, visit www.lifeguardtimes.com.