Lifeguard News – The Latest And Greatest
|
Lifeguard News – The Latest And Greatest
Lifeguard life is always full of adventure, and surprises. No two saves are the same; and, each week, new, inspiring stories of heroic lifeguard acts surface on the web. What follows is a round up of the most interesting news pieces on lifeguard life, published during the past three weeks in international press.
A Papamoa lifeguard saves seven within a day's work
A sudden change in weather in the Bay Coastline area of Papamoa, New Zealand, almost changed the life trajectory of seven unsuspecting swimmers that were caught in the 6-foot waves, caused by a ferocious swell.
Ms. Lauren Weston, the patrolling lifeguard at the time of the event, noticed five swimmers who were seemingly unaware of the imminent danger, and quickly paddled to their rescue. Ms. Weston proceeded to transport the group, which included a mother and son duo, to the shore, when she noticed that two other swimmers were in peril, too. The 23-year-old quickly sprang into action and rescued them, bringing her total saves to seven, within the span of a few hours – an act she described as nothing more than just another day in the life of a lifeguard.
Guam lifeguard and local man save group of tourists
Department of Parks and Recreation Lifeguard Mr. Dustin Lizama, who is posted at Ypao Beach, Guam, saved two Korean snorkelers that found themselves in a life-or-death situation in the beach's waters. However, Mr. Lizama was not alone in his efforts, as a local man, Mr. Joe Tellain, risked his own life in order to offer his assistance.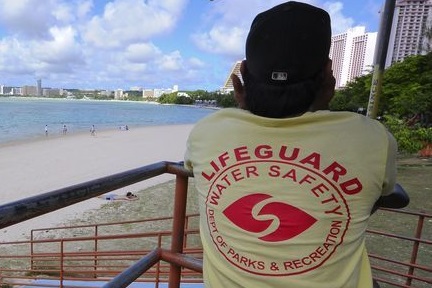 The save followed Mr. Lizama's rescue during the day before, of a boy and girl who were in danger of drowning, when they were caught up in Ypao Beach wave's, quite far from their shore. With their frantic mother calling for help, Mr. Lizama grabbed his rescue board and paddled the brother and sister pair to safety, later stating the importance of fitting children with water safety gear, and keeping them at close supervision while at sea.
Selfless lifeguard actions have once again made headlines across the world, and not a day goes by that stories like these make waves across the web. A testament to lifeguards' tenacity, skills, and heightened perception of sudden weather phenomena that impact swimmer safety, these stories prove, once again, that lifeguards are true guardians of the water, as they ensure that no swimmer remains at the mercy of the ocean.
To be sure you are not missing out on any of our stories, please subscribe to our newsletter here.
For future articles about lifeguarding related industry topics, visit www.lifeguardtimes.com