Lifeguard Fashion & Fun! Tips for Looking Your Best While Doing Your Best
|
LIFEGUARD FASHION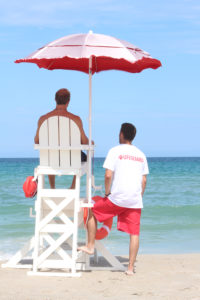 Fashion gets thrown at you four times in a year: Spring, Summer, Fall, and Winter. During this period we switch our sense of style quite often, making fashion an essential part of human existence. It's always fun to do away with winter coats and don comfy summer attires. In this ever recurrent cycle there are some who must look a certain way regardless of what time of the year it is, Lifeguards. This is because a super-hero doesn't change their attire because it's winter. Imagine Superman bundled up in a winter coat fighting crime. Weird, isn't it?
Lifeguards at all times must be ready to run, jump and get wet on the go (Just like a superhero!) hence the need to have the most suited attires to effectively do the job. In most facilities, lifeguards are usually expected to wear a work-issued uniform that coordinates with other staff. In the case of a smaller facility or one that employs only a few lifeguards, you may be required to pull together an outfit of your own. When it comes to your look on the job, function trumps fashion.
However here are a few fashion ideas that would help you look your best while doing your best. In this article you'll learn the best ways and products to protect your hair from chlorine damage, the best cosmetics (shampoos, soap and make-up) for sun, water and chlorine, How to keep hair from Frizzing and most importantly Protection from Ultraviolet rays. But first let's catch up on the essentials, starting with the right apparel for a lifeguard.
ATTIRE: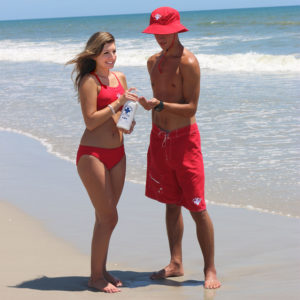 The fundamental attire for lifeguards usually comprises of a swim suit with a miniskirt for females and trunks (Here's a cheap female trunk) or Board Shorts for guys. On the off chance that your office permits female staff members to wear a two-piece style, choose a sport fit with sufficient coverage that permits you to move properly and lift another person without "wardrobe malfunctions."
In some cases, the usual swimwear is red colored and could be printed with a white cross or the word "Lifeguard." This makes you quite easy to spot in case of a water crisis. In cooler climate, like the winter months, lifeguards may wear a T-shirt or shorts over their swim suits. However, you should wear only the absolute necessities, because peeling off layers is time-consuming and can compromise your resuscitation efforts.
Getting these outfits can be quite the hassle, and if you do find them, they're usually expensive, but we wouldn't be your one-stop blog if we didn't have that covered. Here is quality lifeguard attire at the best possible prices. Click miniskirts and female trunks for the best prices.
If lifeguarding outdoors, sun protection is a must. It cannot be overstated how harmful exposure to ultraviolet rays can be to our skin, with adverse effects such as blotching, sun burns, and even skin cancer. It is critical that you use a water-resistant, multi-spectrum sunscreen with natural ingredients that protects against both UVA and UVB rays, and offers high SPF like this one I use HERE. Check out our article on Protection from Ultraviolet Rays for more information.
A visor will also provide additional layer protection to your scalp and face. Here's an example of a good visor. When wearing sunglasses, pick a polarized pair that will help reduce glare on the water's surface, giving you a clear view of what's underwater.
EQUIPMENT: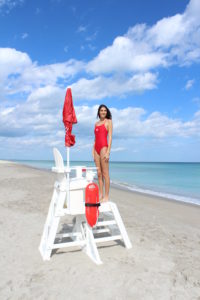 As a lifeguard you'd need a waterproof watch (it is as fashionable as it is important) and a lanyard with a whistle attached like this one. Everything else can get in the way. Additional equipment you may use on the job include a rescue buoy and a first aid kit with disposable rubber gloves. You will also need facial masks to avoid fluid exchange while administering CPR or dealing with blood.
How to keep hair from Chlorine Water Damage and Frizzing:
Lifeguards are usually exposed to the problem of chlorine build-up in their hair. One of the best ways to prevent this is to saturate the hair with water approximately 15 minutes before entering the pool, perhaps in a pool shower. This allows the hair to absorb this water and not the chlorinated or pool water. While it is true that normal tap water contains some chlorine, it is much less chlorinated than most municipal swimming pools. The shampoos that remove chlorine from the hair best use a chemical called ethylendiamine tetraacetic acid (EDTA). This chemical binds (chelates) with the chlorine and can be washed from the hair. It is also used as a cleaning ingredient in many industries.
For those that prefer a more organic solution, use citric acid from fruits or a rice-based chelate. This popular shampoo for swimmers contains vitamin E, aloe and other conditioners which help add moisture back to the hair. A few trusted ideas are Ultraswim, Triswim and Lanza Swim & Sun Daily Chelating Shampoo. Look out for shampoos with organic content.
Another quick tip would be to mix one part vinegar to four parts water and pour it over freshly washed hair. Then, do a final rinse. You can also concoct a Citrus lift for your parched locks. The carbonation in the club soda and the acid in the citrus juices work together to detox your hair and remove impurities like dirt, chlorine, and salt.
To keep hair from fizzing, use protein infused conditioners. These are usually bought on the shelf at a local retail location.
Finally be sure to purchase the products we have listed in this article as they help against UV rays, Hair Frizzing and of course Chlorinated Water Damage.╚
For future information about lifeguarding related industry topics, visit www.lifeguardtimes.com.