Lifeguard News – Holiday Rescuers
|
Lifeguard News This Week
From all of us here at Lifeguard Times, we wish you a very merry Christmas and a Happy New Year.
The year is nearing its end so fast that it's almost like the New Year has begun. For most people, the end of the year means they get to vacation with family and or friends, go kayaking, surfing and do all the stuff they couldn't do because of their busy schedule during the year – but lifeguards are not most people.
Here on Lifeguard Times, we have brought you stories covering the heroic acts of lifeguards throughout the year. But even as the year comes to a close, lifeguards are still out there putting their lives on the line.
Here are some of the rescue stories this week.
Lifeguards rescue three at Sunset Cliff in San Diego
New Jersey Lifeguard rescues six in Bali
Lifeguards perform a double rescue at Sunshine Coast Beach, Queensland Australia.
Lifeguards rescue three at Sunset Cliff in San Diego
San Diego Lifeguards were quite busy on Saturday when two different emergency calls notified them that a woman had slipped into the water and a group of people had run into water trouble when their boat overturned.
The woman who slipped into the waters was at Sunset Cliffs with friends when she decided to take a photo standing closer to the water. According to lifeguards who were on the scene to perform the rescue, waves came crashing on the spot she stood and she slipped into the water.
Two other people jumped into the water to help the woman but also found themselves in water troubles as all three got swept into a cave area along the cliffs!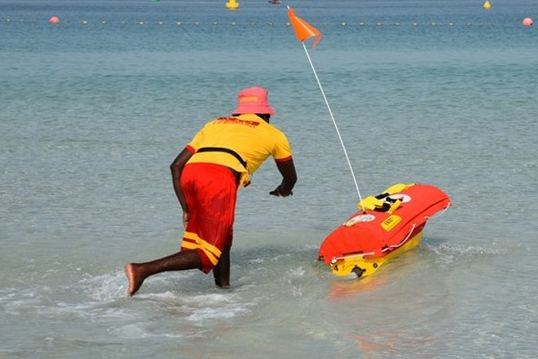 The two people help the woman up till lifeguards arrived to rescue all three.
The woman who had slipped into the water was taken to a hospital nearby. The other two were unscathed.
In a second incident that happened when lifeguards were attempting to rescue the three people mentioned above, a group of people from a local outrigger canoe club had their boats overturned in Mission Bay channel.
The group had failed to right the boat and it took lifeguards to help pick up the seven boaters.
While it was still unclear how the outrigger boat overturned, no injuries were reported.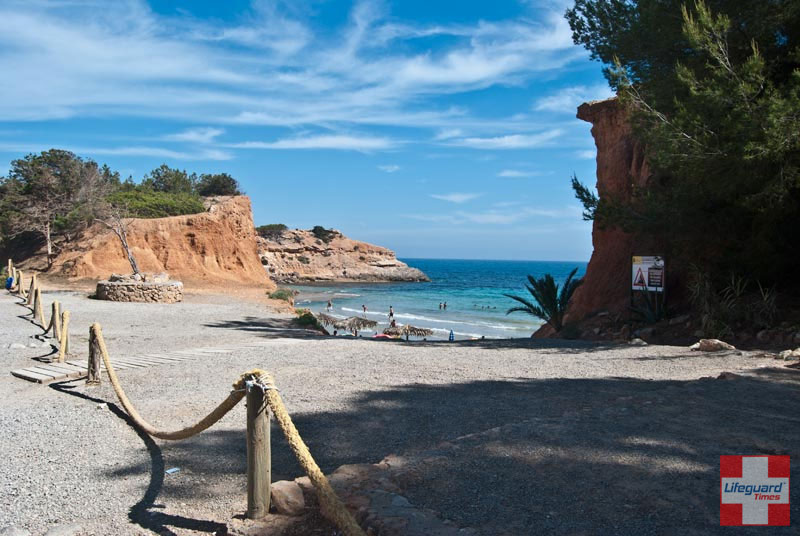 Jersey Lifeguard rescues six in Bali
Lifeguarding is not just a job, it is a way of life, and hence lifeguards are never off-duty – even while vacationing.
RNLI lifeguard, Nathan Elms from Jersey exemplified this when he saved six stranded beachgoers in Bali after the tide left them caught out at a popular surf spot. The 24-year-old lifeguard supervisor was headed out for a surf at Uluwatu, where he was spending a part of his two-month winter break when he spotted the fully clothed locals stranded on the south of the Island.
Elms, a Surf Champion, broke his £500 board in a bid to ferry five men and one woman who could not swim back to safety. Elms went to and fro six times!
The whole rescue took about 20 minutes but was not seamless as the tides got worse while helping one of the stranded people.
Speaking about the incident, Elms said 'The water was up to my neck. A big wave doubled up behind us so I had to sacrifice my board and grab this lady. I had my leash on but the board is broken,' he added.
Lifeguards perform a double rescue at Sunshine Coast Beach, Queensland Australia.
Two young girls who were bodyboarding outside of the flagged area at Discovery Beach had to be rescued after they got caught in a rip at a Sunshine Coast beach.
Lifeguards sprang into action and thankfully brought the girls back to the beach.
Queensland lifeguards have urged beachgoers to be cautious at the beach, as it is prone to deep gutters and strong currents.
It's been an amazing 2017 bringing you lifeguard updates from all around the world. We want to wish you a very merry Christmas and a Happy New Year!
See you in 2018
To be sure you are not missing out on any of our stories please subscribe to our newsletter here.
For future articles about lifeguarding related industry topics, visit www.lifeguardtimes.com