Five Easy Steps to a Safer Aquatic Environment
|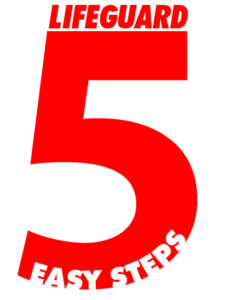 1. Replace – Check and then replace and / or repair any old or outdated equipment.
2. Train – Start off the season with intense skills and endurance training to ensure that lifeguards are in top mental and physical condition. You can never go wrong by starting off strong. Later, do regular in-service training throughout the season to maintain the edge.
3. Cover – Create shaded areas for patrons and lifeguards alike to stay cool and protected from the sun's harmful rays. Reflective cooling lifeguard umbrellas are a must. Sunscreen dispensers located in high traffic areas can head off need for first-aid treatment after the fact.
4. Protect – Offer disposable swim diapers to patrons for free or a small fee to guard against water born illnesses and unwelcome facility closures. Well posted signage indicating the availability and / or  usage requirement of swim diapers is a must.
5. Enjoy – Make safety and accident prevention an ongoing fun activity at your aquatic facility. Establish reward and incentive programs that make doing the right thing a positive that has benefits. Lifeguard of the week indeed.