Exciting Water Safety Game Comes To Pittsburgh!
Exciting Water Safety Game Comes to Pittsburgh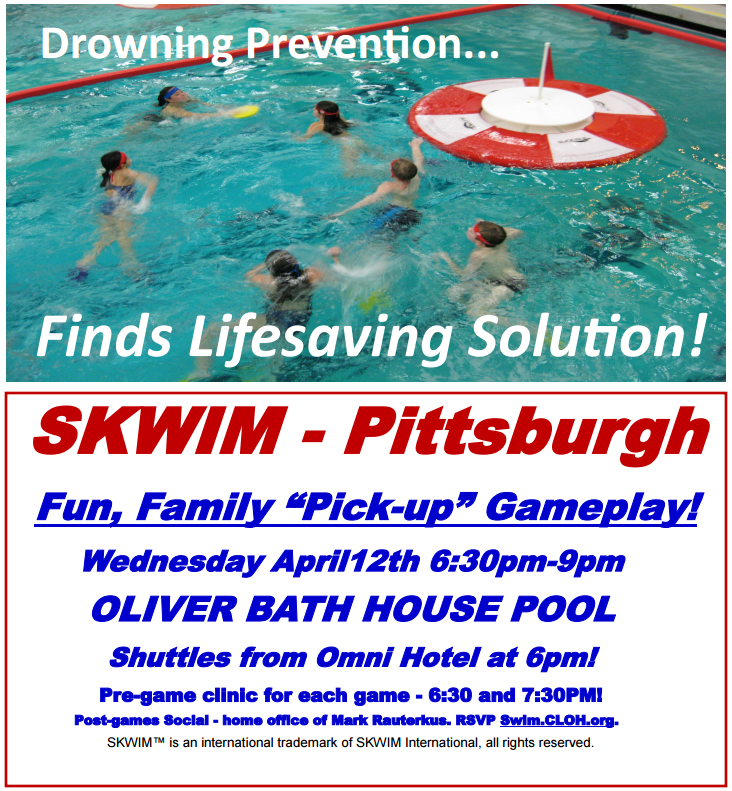 If you're looking for a fun time, you can head over to the historic indoor swim pool in Pittsburgh, where the exciting water safety game of SKWIM will be played. After the event all are invited to enjoy the post-game socialization with local swim enthusiasts, national experts, and the game's inventor, Kevin McCarthy.
This event will have demonstrations of SKWIM by visitors and the aquatic experts of the South Side, an introductory clinic by the Oliver Bath House and opportunities to play the official game of SKWIM where you can have fun in the pool and play this exciting water safety game as directed by Coach Mark of Pittsburgh and Kevin from the state of Washington.
If you're looking to have fun at this event, some items you should bring are a swim suit, and a towel.  Optionally you can bring Caps, Goggles and Swim Fins the event can provide adult size swim fins to play SKWIM. As SKWIM is a great mulit-generational game, it is often played among folks of various ages and abilities. There is expected to be some high school swimmers and lifeguards participating, but the event is geared more for adults.
The annual meeting for the National Drowning Prevention Alliance (NDPA.org) is being held near the location of this event. If you are part of the NDPA meeting and would like to participate and join in a SKWIM experience and post-activities socialization you are more than welcome to join.
To contact the organizer with any questions you can reach them by email Mark@Rauterkus.com or phone: 412-298-3432.
Bring your swim suit and towels. swim fins will be provided!
For more details about the event visit the event site here.
For future information about lifeguarding related industry topics, visit www.lifeguardtimes.com.