eLifeguard.com Introduces High Quality Rescue Boards!
|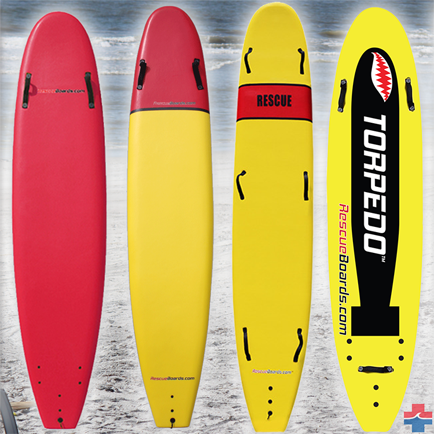 When it comes to lifeguarding, a quick response to any emergency is key. Lifeguards recall their strenuous training as a lifeguard and utilize their honed reflexes in order to respond to a drowning victim. Though their training may be enough, a lifeguard always relies on their lifeguard equipment to help them save the day. Anything from lifeguard rescue masks to lifeguard rescue cans help a lifeguard complete their lifesaving task.
One of the most essential items to a lifeguard would be their lifeguard rescue board. eLifeguard.com has revealed a new line of state-of-the-art soft-top lifeguard rescue boards ranging from 7'6" to 12 feet long! These rescue boards are constructed with a durable soft deck, slick gel coat bottom and heavy duty handles that allow a lifeguard to ready his or her board quickly and with ease. The Softie™ Lifeguard Rescue Boards are heat welded, which help prevent delamination over time. The lack of glue prevents the surface from bubbling and keeps the board looking great!
This relatively lightweight lifeguard rescue board comes in handy when immediate action is required to save a victim. The accessible handles provide improved mobility when a lifeguard needs it most! eLifeguard.com's Softie™ Lifeguard Rescue Board is the perfect rescue board for campgrounds, beaches, lakefronts as well as an excellent learning tool for surf and lifeguard rescue schools.
The Softie™ Lifeguard Rescue Board is exclusive to eLifeguard.com and remains the first choice for lifeguards and aquatic professionals worldwide. These rescue boards are meticulously designed with lifeguards in mind. For almost two decades, eLifeguard.com has been one-step-ahead of their competitors and the quality of their products reflects this fact!
Check out one of eLifeguard.com's videos, "You Are A Lifeguard"

Visit www.eLifeguard.com for more details regarding their top of the line Rescue Boards!