This Week In Lifeguarding News
Lifeguarding is a heroic act and while many expect heroes to have superhuman abilities and fly around in capes, there are indeed some superheroes who wear swimsuits and are ever ready to dive in and save a life. Here at Lifeguard Times™ we are going round the world to provide information on Lifeguards all over the world. First off we head to France where life-guarding has stepped up a notch. Then we visit India where Police couldn't grasp the importance of Lifeguards, but the Mumbai High Court is sure to give them a thorough lecture. These and more are contained in this weeks' lifeguarding news.
Armed police lifeguards to patrol French beaches amid terror fears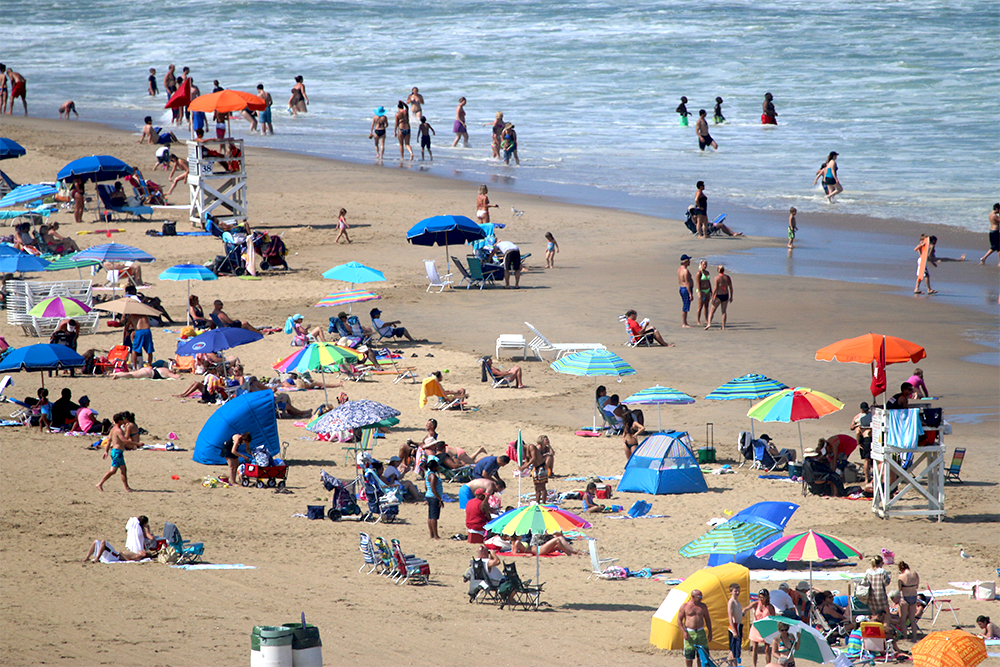 On June 27 2016 The French government released a statement that Police lifeguards on France's busiest beaches will now carry guns and bulletproof vests for the first time this summer amid fears that terrorists could target vacationing tourists.
This decision comes as France enters its seventh month on highest alert under a state of emergency since the November terrorist attacks in Paris. These attacks killed 130 and also involved the murder of a policeman and his wife at their home outside Paris earlier this June.
Officers of the CRS riot police are usually deployed as lifeguards at beach resorts in July and August each year. Previously they would have abandoned their guns, flak jackets and helmets and donned swimming trunks, sunglasses and T-shirts while taking up the much coveted lifeguard's chair. Not to mention that enviable vantage point.
Times have however changed and the officers in charge of beach first-aid centers will now carry guns in sand-proof holsters, specially designed for use with beachwear. Bullet-proof vests will be kept near lifeguard posts.
"We will be ready to act if there is an armed attack on a beach," Nicolas Comte, a police union spokesman, said. He stressed that the police would be safer if armed.
"We've seen that today, police officers are prime targets for terrorists."
The decision is meant to reassure tourists in one of the world's favorite holiday destinations, which has also been hit by a long series of often violent protests against labour reforms. Tourists have also been alarmed by the massacre of 38 people, including 30 Britons, on a Tunisian beach last summer and a beach attack in Ivory Coast in March in which gunmen killed 16 people.
While a section of the officers welcomed the decision, others complained that they would look foolish carrying guns while wearing swimming trunks.
That's just swimming in ridicule," said Frédéric Lagache of another police union. "It is necessary to keep police and tourists secure on beaches, but not in this manner. I don't like the idea of a CRS officer intervening with a gun and a bullet-proof vest while in swimming trunks." Mr Lagache also stressed that storing the guns while making sure they do not fall into the wrong hands would now be security problems.
Officers on lifeguard duty dropped from 460 to 300 this year because police are needed to protect against possible terrorist attacks elsewhere, including the European football championship, which ends on 10 July, and the Tour de France bicycle race. Local councils are making up the shortfall in CRS lifeguards with volunteers, firemen and municipal police. A lifeguard with a gun? Fun has never felt safer.
Meanwhile in India the Bombay High Court seeks BMC's reply over demolition of lifeguards' station at Juhu beach
The Bombay High Court Tuesday 28 June 2016 asked the BMC to submit an action report and file a reply regarding the demolition of lifeguards workstation on Juhu beach. It sought to know how such action could have been initiated by BMC and police without a show-cause notice being issued to the lifeguard association. Clearly they didn't understand the term "lifeguard" meant people putting their lives on the line for other people to live on.
The Juhu Beach Life Guard Association filed a petition stating that their base station which had been in existence since 2010 had the required permission from authorities but the station was illegally demolished by the BMC in March of 2016. It has also asked for Rs 66 lakh ( about$109,000) to buy equipment destroyed by the demolition. It's never a good thing to trouble a lifeguard.
Lifeguard discovers 900-year-old oil lamp on Ashkelon beach during morning jog
Lifeguards are advised to take long runs on the beach for more reasons than one. Clearly there's a new reason to take that long run. You might find a 900 year old lamp. A routine run on the beach last week turned into a fascinating archaeological discovery, when Meir Amsik, a lifeguard who works at the beach happened upon a 900-year old clay oil lamp at Tel Ashkelon National Park, the Antiquities Authority said on Monday 27 June 2016.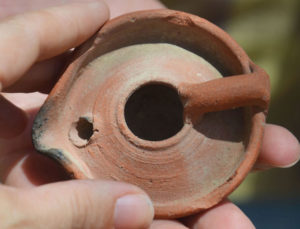 The lifeguard reportedly came across the relic when he stopped to pick up planks washed from the Mediterranean onto the ancient southern port city's shoreline.
Meir Amsik said " I saw part of a cliff deteriorating so I made my up way there and saw this intriguing oil lamp lying there in its entirety. I thought it might be an antique, I picked it up."
Amsik showed the find to a colleague at his lifeguard station, and the duo decided to contact the Antiquities Authority to report the finding.
After analyzing the small oil lamp, Sa'ar Ganor, the IAA's archeologist for the Ashkelon District, dated it to the Crusader Period in the 12th century noting that the oil lamp was unearthed as a result of a receding and weathered coastal cliff.
Amsik said he was delighted to contribute to its recovery and restoration for the public. "Finding such a treasure is very exciting,just to feel like a part of history fulfills a sense of appreciation for what was here before me, and makes me feels like a link in the chain."
Guy Fitoussi, of the IAA's Robbery Prevention Unit, praised Amsik for reporting the find. "The lifeguards on the beach are not just saving people, but even antiques," said Fitoussi.
Meanwhile on Saturday June 25th 2016 afternoon the Newport Beach Lifeguard Department intervened in "a Jet Ski on the rocks at the Wedge" situation.
It could have been worse.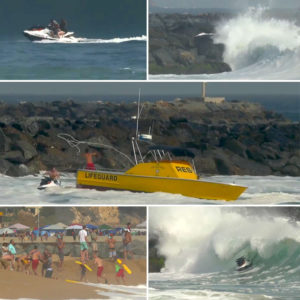 At approximately 4:00pm, a PWC buzzed the lineup at the Wedge only to get hammered by a 20-footer at the Newport Harbor jetty.
In split seconds the ski and its two riders (a couple supposedly on a date) were swallowed by a torrent of whitewater.
"They rented a jet ski and they were at the wrong place at the wrong time. Apparently, they were just kind of lost or something because he just drove straight in" Newport Beach Marine Safety Captain. Skeeter Leeper said.
Body-surfers in the area responded immediately as lifeguards made their way to the emergency from the beach and jetty. Shortly afterwards the rescue boat arrived on scene and attempted to tow the wreckage of the ski back out to sea. After taking a beating for the better part of five minutes eventually the two victims were carried up the beach, extremely lucky to be alive. Both were unharmed and can thank their life jackets — and Newport's lifeguards — for saving their lives.
"The lifeguards and the Wedge crew jumped into action immediately, straight into a set, they did not the hesitate," Capt. Leeper explained.
Donated lifeguard speakers message surfers hundreds of yards away
Lifeguards at Kahaluu Beach Park, Hawaii just this Tuesday were recently gifted a long-distance communication system. This lets lifeguard messages reach surfers 300 yards away from the north tower.
Donated by the Daniel R. Memorial Sayre Foundation, a nonprofit that seeks to provide equipment and training to the Hawaii Fire Department that the county cannot, the equipment was unveiled Monday and should help out get messages out in a crowded area. Daniel R Sayre, son of Frank Sayre and Laura Mallery-Sayre, died in 1997 near Kapaloa Falls. A lack of rescue equipment resulted in a dangerous recovery of his body and led his parents to start the foundation.
Joy Mills-Ferren, water safety officer at the beach said "We want to keep everyone safe as we go home to our families".
The noise of the sea and the distance the surfers go make it quite difficult to get their attention. Should the lifeguards have a reason to call everyone in, such as a shark sighting or bad weather, they can now tell everyone at once, she said.
(The old megaphones) were unable to get people's attention really well," Frank Sayre said about why the newest donation was pertinent.
Bikeworks Kona has contributed part of the money raised from their Cinco de Mayo Splash for the last five years. This year's donation provided much of the money for the $5,500 system.
"You can say it all started with surfboards," said Janet Higa-Miller, who owns the business with her husband, Grant Miller. Higa-Miller said donating makes sense, as their business is heavily involved with swimming as well as bikes, and the lifeguards support their programs. In their business they see a lot of the work that lifeguards do.
On lifeguards she said "They really need a lot of support".
For future information about lifeguarding news and related industry topics, visit www.lifeguardtimes.com.
About The Author
Jeff Robertson